January Blog 2017
Posted on: 25/01/2017
Welcome to the WG6 Blog, the first one of 2017. Now that Christmas is a distant memory let us look ahead to a brand new year with excitement and anticipation, however before we go racing ahead it's time to reflect back on some newsworthy events from last year……
WGSB F1 team news
WGSB F1 team hosted a "Thank You" Event for sponsors and supporters. Many staff have been really supportive of the boys over the last few years and they were keen to show their appreciation for all the work and encouragement given by all those involved in the project. The team consists of four students, Morgan, Brecon, Sam and Prenavin. The boys prepared a presentation sharing their involvement in the F1 in Schools 2016 World Finals in Austin, Texas which Morgan described as a "once in a lifetime experience". Morgan added "we would like to thank our sponsors and people who made donations and their continued support by providing funds and services to enable us to partake in the competition. It has shown companies and people's enthusiasm towards engineering and STEM projects in schools"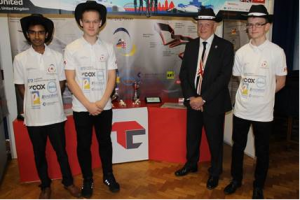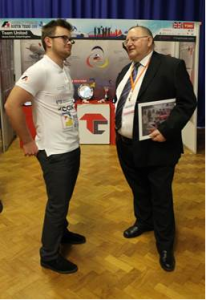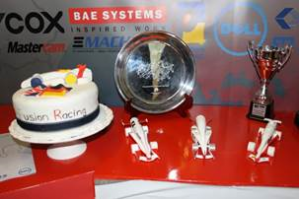 ---
Joshua Bunce, one of our Year 13 students, earned the well-deserved opportunity to be interviewed for the prestigious Cambridge University after passing the interview entrance test. Josh has kindly written a piece for the WG6 blog on his experience…
My experience at Queens' College, Cambridge by Joshua Bunce
I wrote this to help any students who are looking to apply to Oxbridge in the future. Of course, this may be more useful for Economics students but my tips are applicable for everyone – Josh
On Monday 28th November, I travelled to Cambridge to be interviewed by Queens' College. I applied for the Economics course and so had prepared by going over everything I had covered in my lessons as well as looking at the most up to date news that I could possibly use in my interview.
We arrived in Cambridge 3 hours before the interview was scheduled to happen, so that we could have lunch in the city. The downside of this was that I spent hours worrying over every little detail. I dealt with this by just having a look around some of the nearby colleges.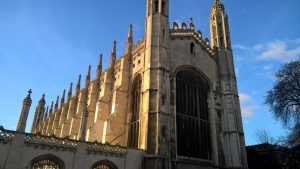 Outside the front of King's College. The weather may look nice but it was freezing while I was there.
Eventually, it was time. I headed to Queens' thirty minutes before my interview was scheduled to start and sat in the waiting area with a few other prospective students. This was the worst part as you begin to compare yourself with the others there, which is not a healthy way of living!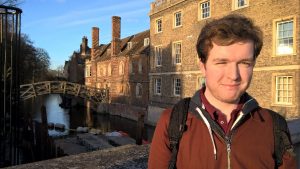 Five minutes before my interview, I headed off to the room that I had been told to go to, and then waited until the previous student had left and one of the interviewers called me in. Every interview in every subject has at least 2 people interviewing you, though these may be spread over multiple interviews. I only had one thirty-minute interview (though others may have longer experiences). However, it felt like five minutes while I was in there.
My interview was split into two parts: one was game theory and the other involved diagrams. Each began in a relatively easy way with questions not much harder than those that may be asked in 6th Form. We then expanded on these questions which proceeded to get tougher and tougher. This may sound scary but it wasn't. The interviewers would provide hints to try and steer the discussion to the correct answer (they aren't trying to get you to fail). At the end, they asked if I had any questions, which I had as asking questions shows you care more about the Cambridge specific course.
I can remember feeling an immense sense of relief once I had left Queens'. They say most come out of the interview in tears but I was just glad it was over with.
Overall, these are the main points I took away from my experience, which you may find useful:
Don't worry about how other people will do, they'll be thinking the same thing about you
The interviewers will help you when you get stuck so that you can work through the problem together
The interview goes by a LOT quicker than you can imagine
Make sure to ask questions about the course
---
FOCUS DAY 15 DECEMBER
Our December Focus day was to showcase STEM, apprenticeships and Wellbeing. We had talks from Alumni who are now working in the STEM fields (Science, Technology, Engineering and Maths). The army also came in that day and carried out team building workshops and gave talks relating to this particular career path. We had presentations from health visitors, finance advisers, media, space, and university talks took place too. There were also lectures from local and national businesses including KCC ambassadors from the Engineering Guild, Alumni student David Roddy representing London Transport and another Alumni student, Jude White, who presented a talk on computer gaming, which he is now studying at University. Tom Grant, a young apprentice from the prestigious accountancy firm Ernst and Young showcased CV, interview techniques and personal statement skills . The day also involved a performance by a live band on the dangers of drugs, a visit to the local church where carols were sung and readings were given along with a spectacular feature from our very own gospel choir which put everyone in the mood for Christmas!…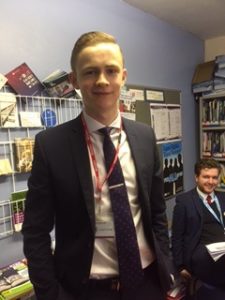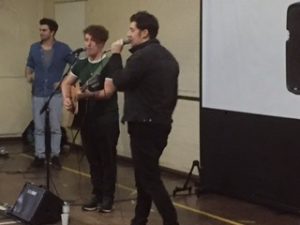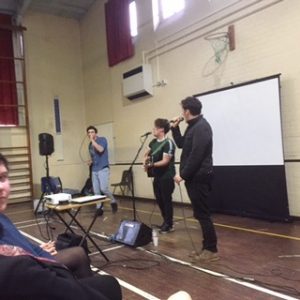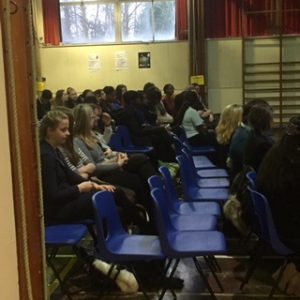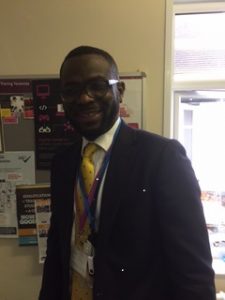 ---
Year 13 Celebration Afternoon
Our WGSG site held a Celebration Assembly for last year's WG6 Year 13 students. The evening centred around congratulating students on their achievements and the presentation of their A level certificates. Guest included The Worshipful the Mayor and Mayoress of Dartford, school alumni, members of our PFA, friends and sponsors. A special thank you to our alumni Mathew Baker (currently attending Trinity Laban Conservatoire of Music & Dance) and Georgie Lennon (previously our Head Girl and now a Midwife at Darrent Valley Hospital).
The prizes were generously provided and awarded by our sponsors; the awards and recipients are as follows;
The University of Greenwich – The University of Greenwich ICT Award went to Alex Dartnell
The PFA, the prize for Academic Achievement went to James Rowley
The Derek Thorogood Prize for Effort in Science went to Ciara Doyle
The Marion Maidment Prize for ICT went to Saaqia Ahad
The Norma Bennett Prize for Technology went to Jessica Keating
The Diane Connell International Citizenship Award went to Maisie Hammond (for Auschwitz) and Alex Newell (for Romania)
The Keith May governor's Award for Diligence went to Harry Mclean
The Robert Reed prize for Humanities went to Rebekah Greenbank
The Graeme Maidment citizenship award went to Sam Chance)
Thank you to all our sponsors for their continued support. Congratulations to all students recognised for a special award.
Pictured, Georgina Harris with the Norma Pyefinch Cup which she received for contributions to the life of the school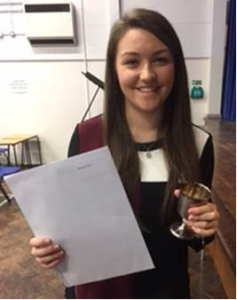 Georgina Harris collecting her award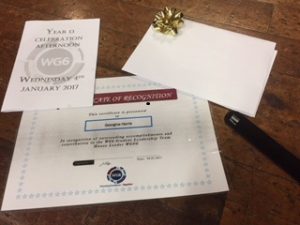 ---
Our WG6 rugby team staged its annual WG6 versus Old Boys rugby match in December. The match is played in remembrance of Keith White, deputy head teacher for over 30 years. In addition, tributes are made for Jack Thompson and Reece Burrowes, two students who sadly passed away recently. All charity donations go to Ellenor Hospice.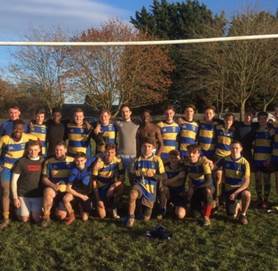 ---
DEGREE-APPRENTICESHIPS – A REAL ALTERNATIVE?
– By Jennifer Forrest 13G
We are at that point in the year where both years within the sixth form consider their future post-18.
Historically, over 90% of WG6 students move on to some form of higher education, but with ever-rising university costs and changes to job opportunities in some sectors, some are seeing degree apprenticeships as an alternative.
With the Conservative Party manifesto setting a target of 3 million apprenticeship placements to be delivered by 2020 there is greater pressure for more students who don't choose university to choose apprenticeships. However, 500,000 were introduced last year under David Cameron, with 1,100 students choosing degree apprenticeships and 201,675 choosing university degree courses. But 31% of those taking degree apprenticeships dropped out.
Mary Curnock Cook, the chief executive of UCAS explains in The Times that "being a graduate is now not a free pass to graduate employment. They should expect to come into the workplace at a relatively low level and develop through hard work."
An apprenticeship levy is to be introduced by the government by April 2017, to raise approximately £3 billion from large employers. Taking 0.5% of their pay-bill into a so called 'levy pot', employers can use this money from May 2017 on apprenticeship training alone. This should make taking on apprentices more valuable to them, giving back with higher quality apprenticeships.
But there is benefit financially for the students taking up degree apprenticeships. They avoid the increasing student-debt of a university education and living costs, which leaves many sixth-form students wondering how they can pay back approximately £44,000 worth of debt.
Admittedly an apprenticeship who wants to move on would have a few years of work experience, industry contacts and qualifications, putting them into a reasonably strong position, but extracurricular university life can develop personal skills, essential for finding specific roles before applying for graduate jobs.
Michael Efe, a year 13 student who has applied for both university courses and degree apprenticeships, said; "An apprenticeship gives you experience of work and the experience of university at the same time. I have applied to university as well but ideally I want to find an apprenticeship. I think the application process for an apprenticeship is more difficult than the UCAS process."
There is also the social side, a large element of the university experience. A degree apprenticeship involved long hours and short holidays, being in university when other students often are not.
Applications for apprenticeships acts as an addition to the 5 UCAS choices, but students apply directly to the companies involved as opposed to UCAS for university applicants. This also includes research, ensuring that university offers the course associated to the company, the qualification achieved at the end and the split between study and work.
There is uncertainty surrounding this route. Launched in November 2014, degree apprenticeships can last up to 5 years, and so we are yet to see students come out the other side of a degree apprenticeship, meaning we do not know how transferable the qualifications will prove to be.
Mrs Geraldine Tiddy, Head of WG6, said: "It's not an easy option. The cost really comes back in terms of time, so if you're going to do a degree you focus on just doing your degree, and that's why it costs a vast sum of money. Whereas if you're trying to do a degree apprenticeship, one day a week plus evenings, quite often, on top of a long day at work, is sometimes quite a challenging way of doing it.
"I really think people need to thoroughly investigate track records within a company to see who has actually managed to achieve success via this route. My overall advice would be to strongly consider this, as they are a great opportunity to gain a degree whilst reducing the cost."
And so, as degree apprenticeships grow in popularity, with greater funding and a more attractive prospect with a wider range of companies looking at offering this as a cheaper alternative as to recruiting graduates. There are other elements of the argument worth considering. Is the absence of such debt worth the time, with a potential extra two years compared to a university education? Therefore, those considering this option following A-Levels should question, are degree apprenticeships a real alternative?
---
If you have any photos, videos or blogs that you would like to contribute to the WG6 community, please share them with us by emailing to sahalstead@wgsg.co.uk